Membership
By becoming a member of Delaware Valley Zen Center, you help support its ongoing practice and programs. You'll also automatically become a member of the international Kwan Um School of Zen, and part of its effort to bring this teaching to new students and to other parts of the world.
As a member you will receive reduced fees for retreats and programs at other Zen Centers of the Kwan Um School of Zen. You'll also receive the School's journal, Primary Point, and its newsletter.
Membership rates:
Individual Membership – $360/year
Family Membership – $480/year
Student/Senior (65+)Membership – $240/year
For your convenience, dues can be paid by check or money order in U.S. funds, by Visa, MasterCard, American Express or Discover, or by PayPal. Membership fees and contributions are tax-deductible.
Monthly, Quarterly, and Bi-annual options are also available. 
To become a member please choose one of the following options:
1. Print out an application and mail with your payment.
2. Become a member on the Kwan Um School of Zen website.
Donations
The Delaware Valley Zen Centers also accepts direct donations. Donations are typically used to help pay for the monthly rent for use of the church sanctuary and expenses related to conducting retreats.  
If you would like to make a donation to the Delaware Valley Zen Center online, you can do so via the donate button below. The donate button will take you to PayPal which offers secure transactions.
You do not need to have or open a PayPal account to make a donation; PayPal also accepts all major credit cards.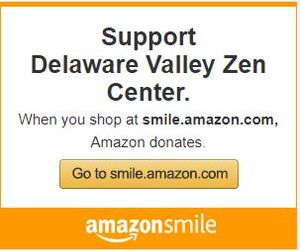 Keep Up With What is Happening at DVZC
Practice is held every Wednesday evening at the New Ark United Church of Christ, 300 E. Main St, Newark, DE 19711.
Practice begins at 6:30pm with a short orientation for beginners, followed by chanting. We then have two 25 minute periods of sitting meditation with a 10 minute period of walking meditation in between.
Free Meditation Instruction sessions will be scheduled as requested. Send an email to DVZCinfo@gmail.com and ask to be added to the next instruction class. 
There is no fee to attend our practice, you do not have to be a member.
Monkey Mind Zen,
is a  DVZC satellite.

The group meets in Philadelphia.
For information about their practice visit: