"

Dear Friends, Delaware Valley Zen Center has resumed in person practice at the New Ark United Church of Christ, 300 E Main St, Newark, DE 19711. Practice night is now, Wednesdays at 6:30pm. We will continue an online practice the 3rd Wednesday of each month and have Kong-an interviews on that night. Updates regarding the in-person practice will be sent to the current mailing list. If you wish to be added to the practice schedule email list, send an email to DVZCinfo@gmail.com and request to be added to the weekly practice update list. "
 The Kwan Um School's Zen Centers are conducting many online  practice offerings.
Teaching:



With a deep and mindful breath,

DVZC recognizes the passing from this world of the beloved teacher the Venerable Thich Nhat Hanh.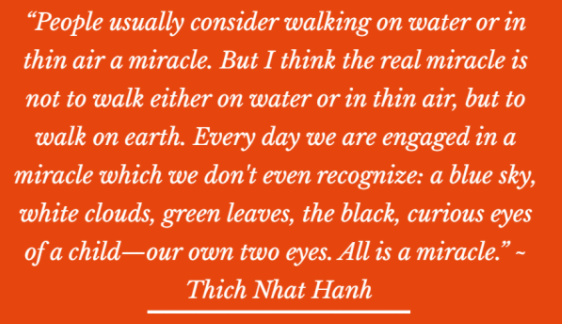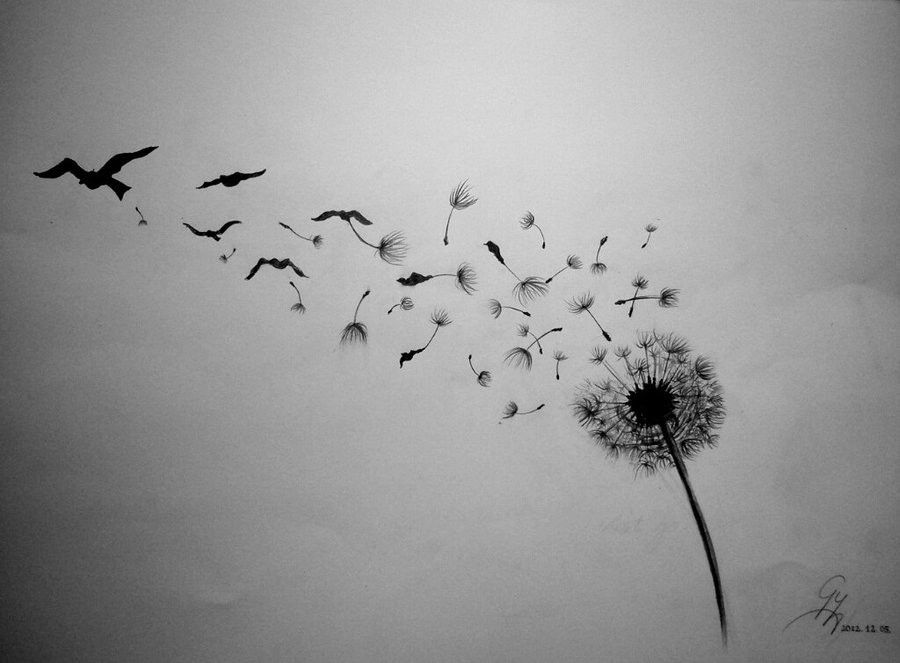 Practice is not about getting;
it is about letting go.
The more you let go,
the more you'll find yourself getting.
New Year Poem
From Zen Master Seung Sahn 1980

Every year, every year, 
New year, new year.
Every year, every year,
Old year, old year.
 
Old year gone.... New year.
New year gone... Old year.
 
Who made that?
You? I? We? They?
No, no, no!
Then God? Buddha? Time? Space?
No, no, no!
Then the sun? The moon?, The earth? The stars?
No, no, no!
Then the mountain? The river? The tree? The flower?
No, no, no!
Then the elephant? The dog? The cat? The mouse?
No, no, no!
Then, "Three pounds of flax?"
"Dry shit on a stick?"
"Katz?"
"Mu?"
No, no, no!
 
Then what?

The snow sparkles in the dawn.
In the morning 1972 plus 8.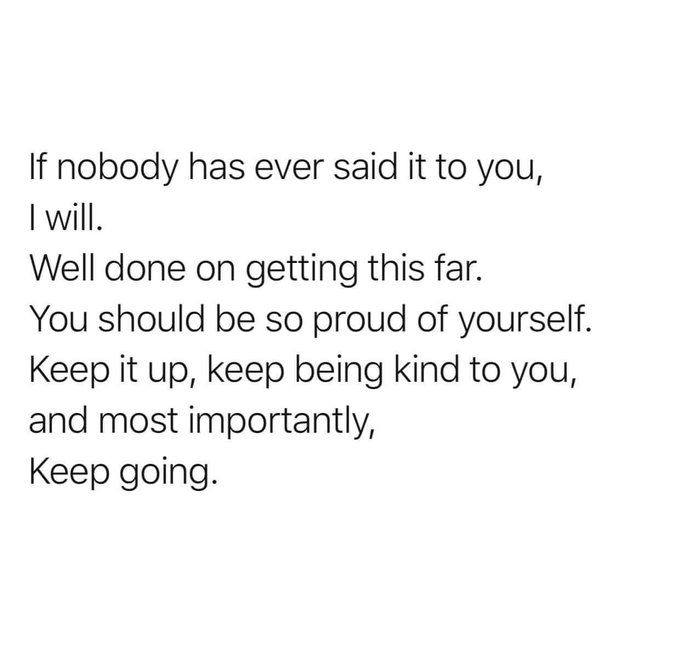 Four Kinds of Anger
Berkeley, California November 4, 1976
Dear Soen Sa Nim,
How are you, and how is it to be back East again? We miss you here! I hope the seven-day Yong Maeng Jong Jin is going well.
It is strange how things happen, sometimes backwards. I felt very clear after the weekend you were here (even though during the weekend I thought all the dry cleaning in the world would not get my mind clear!). But two days ago I suddenly found myself screaming mad at my son to the point that I even tried to slap him. I felt just terrible that, after going to three Yong Maeng Jong Jins in five weeks' time, sitting every day, etc., I could revert to such a totally angry mind. And over such a small thing! I went to my room and lay on my bed and started to cry in despair at myself -- and then an odd thing happened. I realized that something very important had just happened and crying was not the answer.
I realized that it was time to stop worrying and feeling guilty about him and DO something to change his environment and therefore his karma. Right now he is in a very poor environment; school is not challenging, this home is not making him grow, his friends are getting into trouble and not interested in much except excitement. He has always resisted every effort to change school or to move or whatever -- and I always have given in, perhaps feeling I didn't really know the "right" answer anyway or perhaps afraid he would reject me.
This time I saw what had to be done, clear as clear: he needs to go away to a good school for at least a while, whether he likes it or not, whether he hates me for it or not. I saw that I was willing to be "100%," finally -- even if I turned out to be "wrong." I think I really surprised him -- because I got up off my bed and walked into the kitchen where he was and told him all that -- and also that I was no longer willing to let him push my anger button like that.
At first he just said "no" loud and clear. But for once I did not waver but told him that I felt very strongly he should give it a try -- what did he have to lose? And I told him that unless he could begin to challenge himself to try something new, he would never experience much in life.
Just before we sat Zen last night, he came in and told me he had changed his mind and would go to the school for a day and see what he thought.
I feel so good, Soen Sa Nim. I just wanted to share this with you very much. It has so much to do with the "dropping ashes on the Buddha" kong-an -- I feel as if I am making some progress toward attaining an "answer" to it .... which seems (for me anyway) to have to do with that thing you keep telling us, that "Zen is believing 100% in yourself," something I have just never been able to do. I've discovered that I believe 100% in my love for my son, to the point that I am willing for him to reject me or even for my idea to fail. He's just not old enough to make total decisions for his life in every way. This is one I have to make for him. And evidently he went inside himself, knew I was right in his heart, and decided to go along with it.
Anyway -- he is a different kid today, and whatever happens, yesterday was perhaps a turning point for us both.
Your teaching is beginning to get through to me, Soen Sa Nim -- thank you very much.
Love, Diana
---
November 10, 1976
Dear Diana,
Thank you for your letter. How are you and Ezra and all your family? We have just finished the seven-day Yong Maeng Jong Jin.
After going to Yong Maeng Jong Jin your mind was clear. A clear mind is like a clear mirror, so when anger appears, angry action appears. You love your son, so you were angry. Is this correct? Don't check your mind -- at angry time, be angry. Afterwards, checking is no good.
But your previous anger and the anger you talked about in your letter are different. Before Yong Maeng Jong Jin, it was attached anger; after Yong Maeng Jong Jin your anger was only reflected anger. If you do more hard training, the reflected anger will change to perceived anger. After more hard training, perceived anger will disappear. Then you will have only love anger -- inside you will not be angry, only angry on the outside. So attached anger, reflected anger, perceived anger, love anger -- all are changing, changing, changing. Anger is anger; anger is the truth. Don't worry, don't check yourself it has already passed. How you keep just-now mind is very important.
Attached anger sometimes lasts for three hours, sometimes three days, and does not quickly return to love mind. When you were crying, you had reflected anger; it did not last long. Soon you returned to your mind that loves your son, and you knew what to do to help him. You believed in yourself 100%. After more hard training, you will have perceived anger. You will feel anger but will not show it; you will be able to control your mind. Then afterwards, you will have only love anger, anger only on the outside to help other people -- "You must do this!" -- but no anger on the inside. This is true love mind.
You had already done three days of hard training during Yong Maeng Jong Jin, so your mind light was shining to your son's mind. Everything is from the primary cause; primary cause means karma. If your karma disappears, then the primary cause disappears. If the primary cause disappears, then the result will disappear. Your son's bad karma and your karma are closely connected, so if your karma disappears, then your son's karma will also disappear. This is your mind's light shining to your son's mind.
Buddha said, "If one mind is pure, then the universe becomes pure." So, if your mind is pure, your world will be pure. Your world means your family, your friends, your country -- all of them. So changing your son's school is a very good idea. Sometimes, when the situation is bad, everything is bad; when the situation changes, then it is possible to change everything.
So, your mind light is already shining to your son's mind. First, what is Great Love? Great Love means believing in yourself 100%. Then everything is no problem. I read your letter, and I also felt very good. All this is from your strong practicing.
But, you must finish your homework. Somebody comes to the Zen Center, smokes a cigarette, blows smoke and drops ashes on the Buddha. How do you fix the cigarette man's mind? How do you correct him? Quickly, quickly, answer me!
I hope you only go straight -- don't-know, which is clear like space, finish your homework, attain Enlightenment and Great Love mind, and save all beings from suffering.
Yours in the Dharma, S. S.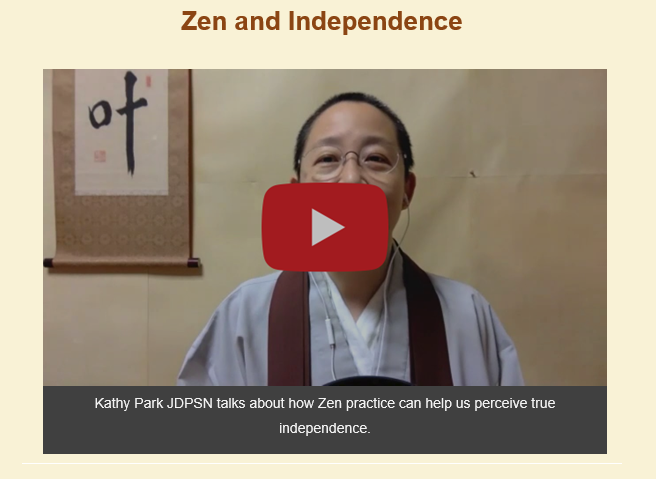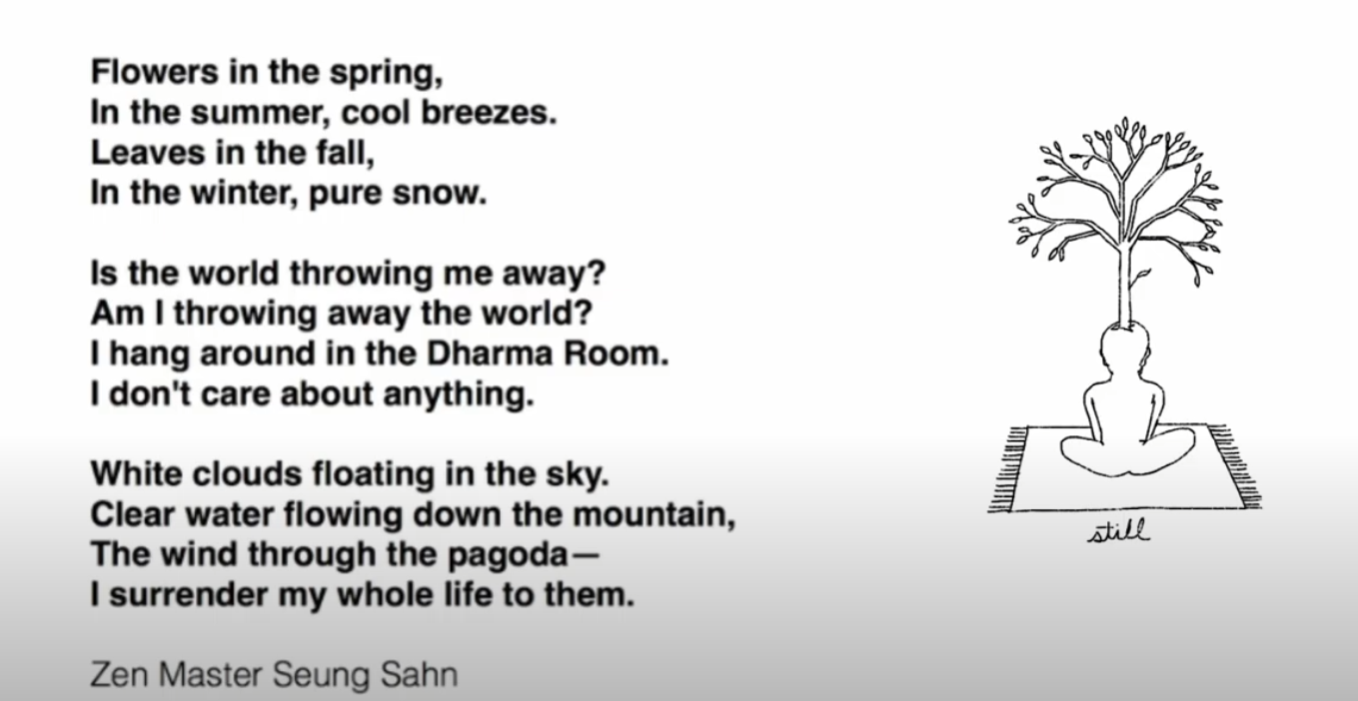 Just Seeing is Buddha-nature
If you want to understand the realm of Buddhas.
Keep a mind that is clear like space.
Let all thinking and external desires fall away. Let your mind go anyplace with no hindrance.
Then what is keeping a mind that clear like space?
If your mind is not clear, listen to the following:
It is enlightenment nature.
Above is the dwelling place of all Buddhas;
Below are the six realms of existence.
One by one, each is complete.
One by one, each thing has it.
It and dust interpenetrate.
It is already apparent in all things.
So, without cultivation, you are already complete.
Understand. Understand. Clear, clear.
(Holding the Zen stick:) Do you see?
(Hitting with the Zen stick:) Do you hear?
Already you see clearly.
Already you hear clearly.
Then what are this stick, this sound, and your mind?
Are they the same? Or different?
If you say ―same,‖ I will hit you thirty times.
If you say ―different,‖ I will hit you thirty times.
Why?
3 x 3 = 9
from The Compass of Zen by Zen Master Seung Sahn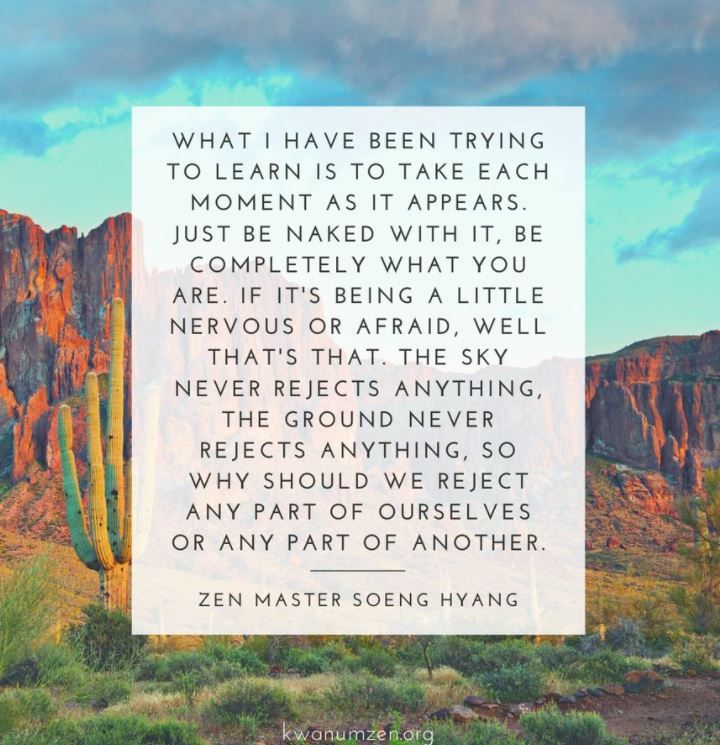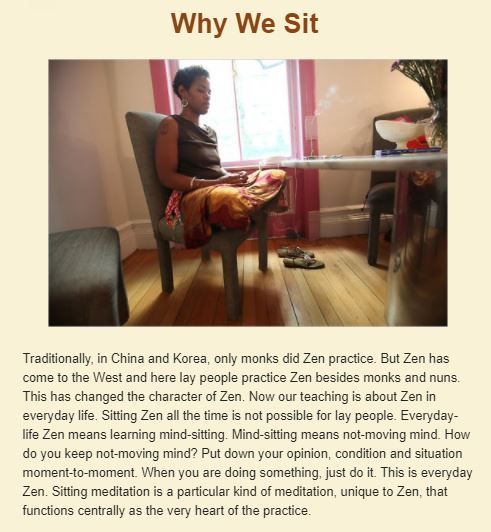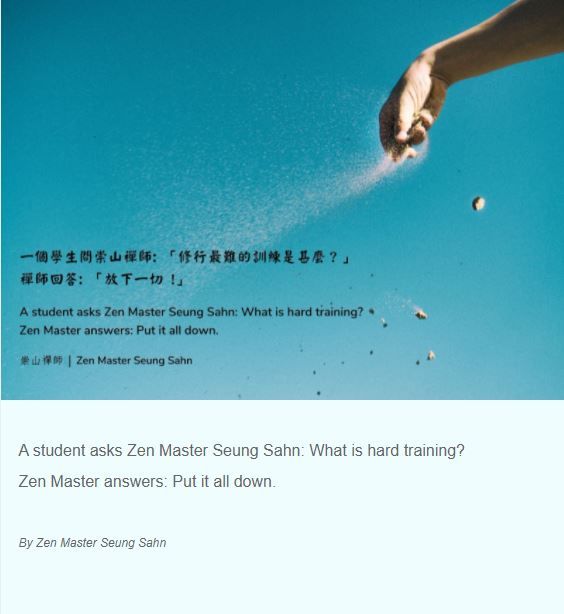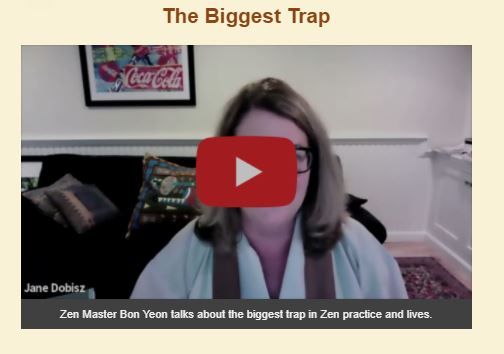 About DVZC:
Founded in 1999, Delaware Valley Zen Center (DVZC) offers to the community an environment for Zen practice. Our weekly practice includes chanting, sitting meditation and walking meditation. DVZC is one of more than sixty centers and groups worldwide affiliated with the Kwan Um School of Zen, an international organization founded by Zen Master Seung Sahn. Our guiding teacher is José Ramírez, JDPSN, who received Inka in April 2009. The Delaware Valley Zen Center (DVZC) is a 501(c)3 non-profit religious corporation of the State of Delaware. All donations are tax deductible to the full extent allowed by law. DVZC is supported, administered and maintained by its members.                                                                                                                         
About the Kwan Um School: 
Seung Sahn & The Kwan Um School of Zen: A brief introduction   
Statement Regarding 
Racial Justice and Equality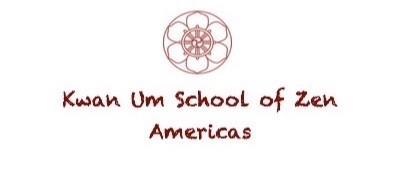 The Kwan Um School of Zen, an international community of Zen Buddhists, condemns police violence targeted at African-Americans and the larger, systemic racism that engenders this violence. As Buddhists, we are called to wake up to the reality of our world and to be of service to all beings. We support the goal of racial equality and affirm that we will work within our own organization and with others everywhere to create a more just and egalitarian nation and world. 

Our school is named for the Buddhist bodhisattva of compassion, Kwan Se Um Bosal, whose name means "one who hears the cries of the world." It is time for all of us to listen more closely to the voices the victims of racism and state violence. For those of us born to white privilege, it is time to recognize that much of the "progress" our country has made toward racial and economic equality has been a delusion. 

In listening, let our actions be led by those whose cries have gone unheard and unheeded for centuries. Our enlightenment is the world's enlightenment, and it must shine everywhere. The Australian activist Lilla Watson said "If you have come to help me, you're wasting your time; but if you recognize that your liberation and mine are bound up together, we can walk together."

One action is worth a thousand words. That one action of a white police officer murdering with impunity, a black man, George Floyd, by placing his knee on George Floyd's neck for eight minutes and forty seconds is just the tip of the iceberg. Can our practice lead us to compassionate engagement with our communities? Can it help us to step out of our comfortable white social bubble and see that we have been complicit and added to racial injustice just by not seeing or hearing the cries of our brothers and sisters?

Without quoting the Buddha or the Bodhisattvas, what is our path? How do we open up to our innate compassion and wisdom? How do we stop all thoughts of self and other and enter into JUST THIS? The only true way we can be in a clear relationship with this planet and all of its many manifestations is to be willing to break the wall of self and other, and see things just as they are. Let us use our sadness and confusion as fuel and take a deeper look at our responsibility to each other. There's never been a better time than right now!

In the dharma,

Zen Master Soeng Hyang (Bobby Rhodes)
Zen Master Wu Kwang (Richard Shrobe)
Zen Master Jok Um (Ken Kessel)
Kwan Haeng Sunim
Garret Condon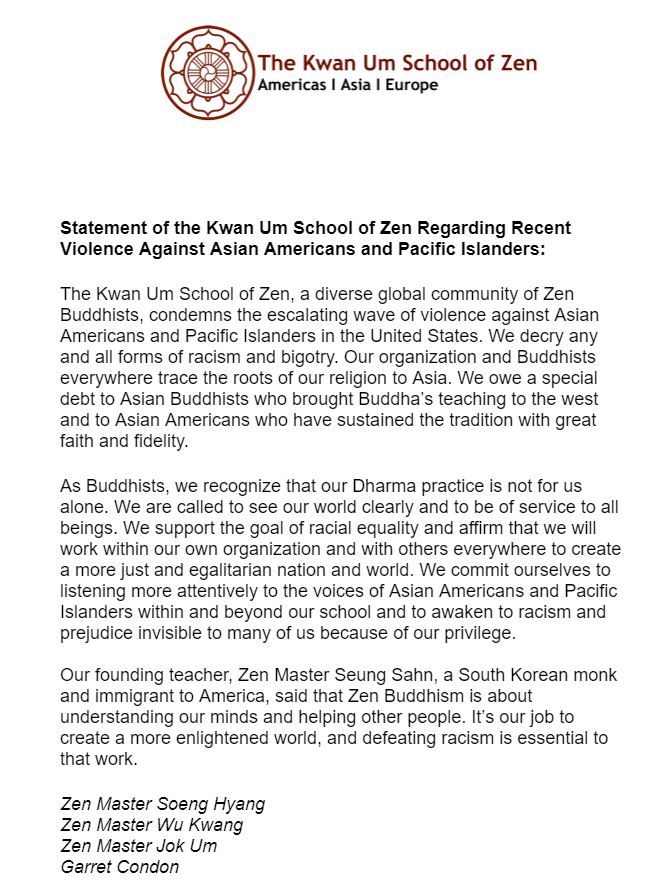 Keep Up With What is Happening at DVZC
Practice is held every Wednesday evening at the New Ark United Church of Christ, 300 E. Main St, Newark, DE 19711.
Practice begins at 6:30pm with a short orientation for beginners, followed by chanting. We then have two 25 minute periods of sitting meditation with a 10 minute period of walking meditation in between.
Free Meditation Instruction sessions will be scheduled as requested. Send an email to DVZCinfo@gmail.com and ask to be added to the next instruction class. 
There is no fee to attend our practice, you do not have to be a member.
Monkey Mind Zen,
is a  DVZC satellite.

The group meets in Philadelphia.
For information about their practice visit: